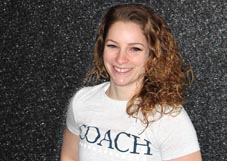 Coach Vicky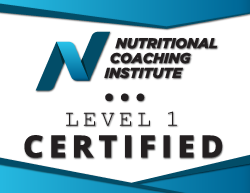 [button color="blue" rel="nofollow" link="mailto:vviola6@gmail.com"] For inquiries and pricing
please contact Vicky
at vviola6@gmail.com. [/button]
About Me
My biggest passions in life have always been helping others and fitness, so it is no surprise to people who know me that almost everything I do in my life circles around these two concepts. I graduated from The College of New Jersey in May of 2013 with a Bachelor's degree in English and Secondary Education which incited my career as a High School English teacher at Mendham High School. While education became my main focus in college, fitness was never far behind and after moving to Morristown, I found CrossFit and instantly fell in love with the sport! In January of 2017, I received my CrossFit Level 1 and began coaching at CrossFit 13 Stars. Hoping to further my passion of helping others, in October of 2017 I decided to take the Level 1 Nutritional Coaching Institute Certification to help others achieve their goals by optimizing their nutrition.
About Nutritional Coaching
I provide two different nutrition coaching experiences
• Macro based approach
This means that you'll be expected to weigh and measure the food you eat in a day
All information can be recorded in a food tracking app called MyFitnessPal
• • Client will receive customized goals for daily protein, carb and fat intake in addition to suggestions for:
• Hydration
• Supplements
• Food timing to make sure that you feel great while working out
• Habit based approach
Coach and client work together to create custom goals
Habits are developed based on nutrition, sleep, lifestyle, wellness, etc.
Habits will be tracked in a custom tracker for accountability and feedback
My two most important coaching philosophies are communication and education, so you have 24/7 access to text or email me with questions. I really want you to learn from the experience, and learn the "ins and outs" of the process so that at some point, you are able to go off on your own and continue succeeding.
I offer nutrition coaching for:
• Weight Loss
• Strength gains/improved fitness performance
• Overall improvement of health
Nutrition Blog
I will be posting regular articles relating to nutrition in a variety of ways. Please take a look, and feel free to reach out with any questions that you had while reading.
My Macro Story
After being an athlete my entire childhood, I gained about 30 pounds in college, which on my 5'2 frame is a lot. My senior year, I decided to get my butt in shape, joined a Gold's Gym and started doing the South Beach Diet. I was able to lose 25 pounds, but gained most of it back once I graduated from The College of New Jersey in May of 2013. Flash forward to to March of 2015, I did a Paleo Challenge here at the gym. Very similar to South Beach, I was the thinnest I have ever been, BUT old habits die hard and the weight slowly started to creep back, once I finished the Paleo challenge. In November of 2016, I started working with my macro coach, Laurie from iN3 Nutrition. By working with her for over a year, I was seeing huge results in the gym and feeling the best I have in my body. Laurie, suggested that I take the Nutritional Coaching Institute certification to become a nutrition coach because she sensed my passion and inquisitiveness about nutritional coaching. So here I am in 2018, working with clients and still LOVING the flexible dieting lifestyle. This is the only way of eating where I know that I CAN still "have my cake and eat it too" (as long as it's weighed and measured, of course).
Testimonials
[tabs type="horizontal"] [tab title="Stella"]
"Vicky was incredibly helpful during one of the most stressful times in my life: wedding planning. Macro tracking became the most consistent thing in my life and Vicky was there every step of the way to coach me, physically and mentally. We tested different combinations of macro numbers to get me to where I wanted to be for the wedding.
I appreciated the weekly email check in because it not only kept me accountable but allowed me to remind myself at the progress I have made throughout the weeks. Vicky made herself available 24/7 (except for 8 hours because that's how many hours you need to feel rested ya'll!) via text.
She also shares with her clients about her own macro journey, meal prep tips, and motivation throughout the roughest of cuts. I am happy to call Vicky a coach and a friend!" – Stella
[/tab] [tab title="CK"]
"Sometime in February I realized my weight had steadily crept to an unacceptable level. I regularly went to CrossFit and even excelled at the strength training component at the gym. However, still the weight crept up. It was clearly diet more than anything else, but aside from calorie-counting or being unrealistically restrictive on what I ate, there was no way as far I knew to just figure out how eat in a way that gave me energy for they but where I lost weight.
I tried a variety of approaches to diet in order to lose and/or maintain weight. But most of them often failed because they tended to be too restrictive and often ran too counter to the practicalities of everyday existence; for example, the Paleo life is unsustainable where you can't eat pizza, rice, yogurt, milk, beans, or bread. Sure, moderating them or cutting back by a lot seems fair, but I tended to fail miserably at sum-zero, rigid diets. Macros provides me with the necessary goal-posts to know how much to cut back on some things and how much to eat on others.
Working with Vicky has really helped me create a lifestyle that reconciles the two impulses everyone has with food: to both eat in ways that were nutritionally sound while also wanting to enjoy the full versatility that food has to offer. Vicky achieves this through two really important pillars to her consultation: she is very detailed-oriented and will give you precise parameters on success and will empathize with the social and emotional pratfalls that come with trying to find the right food balances. Rather than telling you to break off your relationship with foods that you love, she gives you a road map for re-framing your relationship with those foods. She often does this by example: both Vicky and I are doughnut enthusiasts, and we often discuss strategies and ways in which we can have those things in our lives (infrequently and moderately!) without losing out on results.
Since February I have lost twenty pounds. I have learned that I need more vegetables in my life and way, way more protein than I would've ever thought was acceptable (like, a lot more). I've learned to care about fiber and drink an ungodly amount of water. But it isn't zero sum, because in the midst of all that I have also occasionally had pizza or doughnuts or fried foods. (An aside: What you may find when you start eating the right amounts of your macros is that your craving for these things dulls. My deep, abiding love for pizza has settled into a strong, Platonic, yet distant friendship. On the flip side, my cravings for protein are way more acute.)
Vicky provides you with balance in your diet, and she gives a lot of great advice about how to fit it to your specific needs. The only thing obnoxious about this service is that I didn't really come around to this approach sooner." – Chris
[/tab] [tab title="JENNA"]
"Working with Vicky has been awesome. It's been a slow and steady process, which is great because I eased into it, never feeling deprived, and have been progressively reaching my nutrition goals since October. One of my goals was to fit in size 10 jeans and I reached that goal within the first two months. I am so happy with my progress and feel great. I have more energy, I'm sleeping better, working out harder, and seeing visible results in the mirror, which is super motivating to me. It's a flexible way of eating and I never feel like I am restricted. My progress photos speak for themselves!" – Jenna
[/tab] [tab title="GREG"]
"I've struggled with nutrition for most of my adult life, particularly with a stressful, office job. I've never responded well to overly strict diets because they weren't sustainable. Vicky has helped me find an adaptable and sustainable way to manage my nutrition. Managing your diet through tracking macronutrients focuses on what you should eat (and sometimes where you can indulge), which makes it less stressful than "dieting." Vicky helped me look at how my body was responding to my diet, my sleep patterns and my exercise schedule. If you feel like you have hit a plateau with your fitness, nutrition or health goals, working with Vicky is a good way to re-think your approach and get to the next level. " – Greg
[/tab] [tab title="RAE"]
"I highly recommend working with Vicky. As a coach, Vicky is always positive and encouraging. I appreciate her balance and understanding." – Rae
[/tab] [/tabs]
Transformation Photos