As most of you know, last October Dan lost his father at the age of 66, after a three year battle with liver cancer. On October 14, CrossFit 13 Stars will be hosting a fundraiser / workout in his memory to raise money to help cancer patients improve the quality of their lives, as well as provide scholarships for exceptionally talented students with limited financial resources.
The theme for our event is STRENGTH.
Having strength is simple in concept, challenging in pursuit, and life inspiring when executed. One of the lasting reflections Dan's family has of their father's fight was his strength. They were awestruck by how strong and resilient he remained both physically and mentally throughout his battle. After he shared his story with you, it has become clear that many of you have similar stories and have also been inspired by the strength of a family member or friend battling cancer or other life threatening illnesses.
The goal of STRENGTH is to have fun, raise some money, as well as celebrate Dan's father and all those who inspire us with their determination to fight the disease and live life to its fullest! 100% of the proceeds of our event will be donated to the Palliative Care Program at the Massachusetts General Hospital Cancer Center and The Edward P. Boland Scholarship Fund.
These are two programs that were close to Dan's father's heart. Your contributions will help preserve his legacy and support other families who continue the same fight.
Stuart Scott once said,
"You beat cancer by how you live, why you live and in the manner in which you live. So, live. Live. Fight like hell. And when you get too tired to fight then lay down and rest and let somebody else fight for you."
So please, we ask you to join us in fighting for Dan's Dad and all those who continue to fight.
How can I get involved?
Participate in the WOD
Starting at 8:00 AM on October 14, 2017 we will run heats of the workout. We will be assigning heat times. To participate in the workout a donation of $75 is requested. Donation secures your spot in the workout, gets you the coolest fundraiser t-shirt to hit the streets in 2017 and one entry into a free unlimited 6-month membership raffle … a $1,050 value!
Enter the Raffle
If the workout and new gear are not in the cards, a $50 donation gets you one entry into the raffle.
Buy a T-Shirt
If you want to skip the workout and the raffle, the event t-shirts will be $30, pre-order now to ensure you get the size you want. After you sign-up, please send Brian a note (via FB or e-mail) and let him know your size.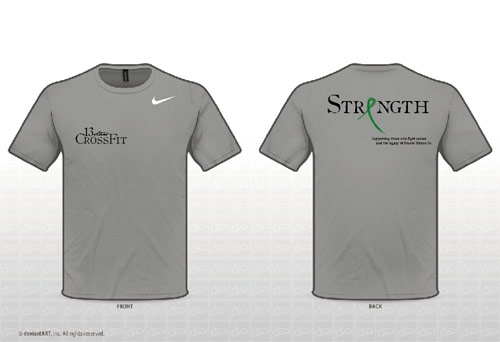 Workout Details
We developed a workout that was semi-unique to us for a variety of reasons, and used our grand opening date as the basis for the rep scheme! If you have done a 'Dilly' with us previously, we are going to modify it to keep all movements on the raised floor.
3RFT // 3 years we have been open
2 modified Dillys // we opened in February
22 double unders // … on the 22nd
20 mb clean to wall balls (20/14) // And the year was 20…
13 atomic sit-ups (25/15) // … 13
How can I sign up and donate?
A. If you have a Zen account, please jump to October 14 and sign up. And then you are able to pay through GoFundMe, Venmo (@brian-vagnini) or PayPal (moran@crossfit13stars.com).
B. If you do not have a Zen account, you can simply send the funds and we will know by the amount what you are participating in. And then you are able to pay through GoFundMe, Venmo (@brian-vagnini) or PayPal (moran@crossfit13stars.com).