Skill:
500m row time trial
WOD:
7RFT
50 double unders / 150 singles
10 C2B pull-ups
---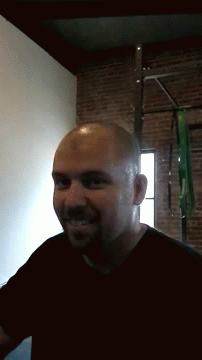 Announcements:
Swens got his first handstand today! Good stuff, hombre. Been working on that for awhile.
And the dynamite animated GIF is of Chris during his internal inferno from this past Saturday. He was on fire, and not 'NBA Jams' style.
Recipes:
We had Buffalo Chicken Pasta from PaleOMG last night. To quote Julie, "I love this. I am able to trick myself into thinking I'm actually eating pasta!" It's a delicious dish. That's all you need to know.